The Tip of the Tongue of the Tip - The bitter swee of precarious friction


Graduate Exhibition 2023
presented in June @De Fabrik, Eindhoven
editorial, curatorial and production by the Graduates of CIL 2023






––––

What Comes After Will Not Be Like What Came Before


Graduate Exhibition 2020
TAC Temporary Arts Centre, Eindhoven

"It matters what we use to think other matters with; it matters what stories we tell to tell other stories with; it matters what knots knot knots, what thoughts think thoughts, what descriptions describe descriptions, what ties tie ties. It matters what stories make worlds, what worlds make stories." Staying with the Trouble, Donna Haraway, 2016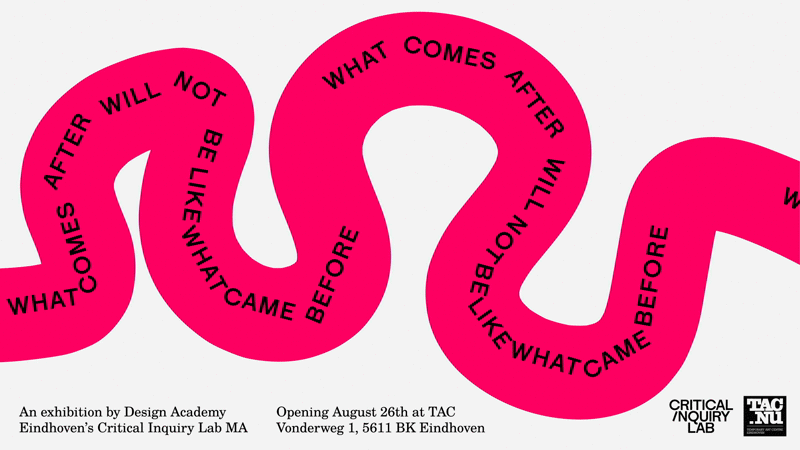 Design Academy Eindhoven's Critical Inquiry Lab MA graduation show, titled 'What Comes After Will Not Be Like What Came Before', brings together works from ten distinct makers whose projects focus on subjects like: airspace as architecture, survival aesthetics, the artificiality of community, the role of architecture and design within museums, storytelling, templates, and the PSV football ground as an identity machine of Eindhoven. Here, research is not something separate from design—but is design in and of itself.
The Critical Inquiry Lab MA is a two-year Master's programme dedicated to an inquisitive trajectory with artistic research at its core. The programme focuses and questions the structures and systems underpinning contemporary life, its political, economic, social, and cultural constructs, and how these structures and systems are echoed within contexts and communities, both locally and globally. Although produced through different artistic outcomes—such as desktop documentaries, storytelling, collaboration, moving images, world-making and publishing—the works presented in this show are fundamentally influenced and interconnected as they have all been researched and produced during these times of uncertainty and within quarantine.
The current unprecedented times also come back in the show's title, which originates from Donna Haraway's seminal publication Staying with the Trouble (2016). A text and theory that explores kinship in times of trouble: what is kinship? What does it look like? Where and whose lines connect and disconnect? What must be cut and what must be linked together? These ideas form a theoretical framing around these graduation works, with each project going beyond critique, and working towards generative ways of interacting and caring for the world around us.

Presented at TAC Eindhoven from August 27th to August 30th, 2020.